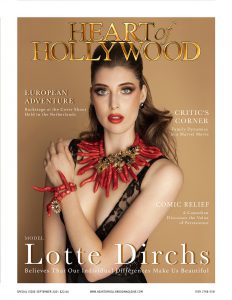 We zijn supertrots dat we de de cover van Lotte, ons Supermodel, kunnen onthullen.
Het team van 12 months of Beauty had niet veel tijd om deze de cover shoot voor deze editie van Heart of Hollywood te organiseren. Maar zoals altijd zei iedereen JA en iedereen gaf zoveel energie gedurende de shoot dat de uitkomst echt grandioos is geworden.
De lokatie voor de shoot was Addict Haarsalon in Haarlem. De eigenaar, Sanjay Ramcharan was natuurlijk ook verantwoordelijk voor de prachtige haren van Lotte. addict was in 2020 ook de lokatie voor de officiële fotoshoot van de online 12 Months of Beauty verkiezing.
De echt prachtige jurk was van Bjorn Kersten en de juwelen waren natuurlijk van onze eigen BaroQco jewelry.
Geweldig blij waren we dat we ook Dave van Seductive Glamor weer konden begroeten na twee vreselijke lock downs vanwege covid-19.
En waar zouden we zijn zonder onze huis fotograaf Johnny ten Have. Verantwoordelijk voor zoveel van de mooiste shoots voor 12 Months of Beauty. deze succesvolle fotograaf maakt altijd tijd voor onze shoots als het lukt.
Hier kan je het magazine bestellen
Hier staat een artikel over de shoot (engels)