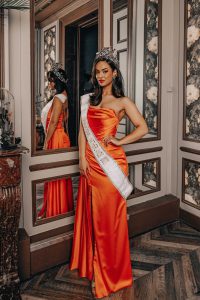 For the Miss Supranational Netherlands 2023 finalists it was an exciting Easter Sunday. Normally they would search for easter eggs, but this year they hoped to find the Miss Supranational Netherlands crown instead.
At the most beautiful hair salon of Haarlem, Addict, the new Miss Supra NL would be crowned after an intens day of photo shooting by Johnny ten Have, a hair make over by Sanjay Ramcharan, a supra chat and a final look and question.
The four beautiful finalists were treated like celebrities by not only Sanjay but also by make-up artist Dave Sewtahal for Seductive Glamor.
The girls would wear dresses and interview attire by their own choice completed with jewelry by Baroqco, the official jewelry and crown designer for 12 Months of Beauty.
The judges had a hard task choosing just one winner as all 4 had shown their talents, beauty and personality in the best way they could and made it not easy for the judges to come to a final decision.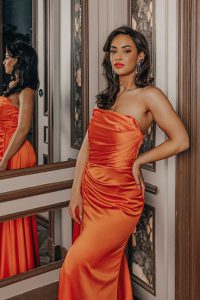 In the end it was Luna Isabella Stienstra who won the hearts of the judges and was crowned by Serena Darder Aguilar, Miss Supranational Netherlands 2022.
Luna is 20 year old and lives in Heerlen. Besides working in he family business, she works with young adults with talent development and their career path. This is also her "from the ground up" platform for Miss Supranational.
She loves to go to the gym and is practicing for her first boxing match.
We are sure Luna will also capture the hearts of the Miss Supra organization and judges, as well as the international fans.
Photo: Johnny ten Have
Hair: Sanja Ramcharan for Addict Haarlem
Location: Addict Haarlem
Make-up: Dave Sewtahal for Seductive Glamor
Crown and jewelry: BaroQco
Sash: Miss-sjerpen