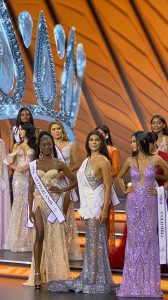 Daar staat ze, onze prachtige Miss Supranational Netherlands 2020/2021 tijdens de international finales van Miss Supranational in Nowy Sacz, Polen. Ze draagt een prachtige creatie van Bjorn Kersten, speciaal voor haar ontworpen en daarbij juwelen van BaroQco. Zo juist tot de top 12 doorgedrongen.
Nadat Swelia na een intensieve voorbereiding naar Polen vertrok liet ze de wereld zien dat zij daar was gekomen met maar 1 doel, de winst!
Na haar wervelende optreden tijdens het sashing moment veranderde de internationale blikken op haar van een eventuele plaatsering in de halve finale naar een heuse crown contender. En dat bleef ze tijdens de gehele wedstrijd. Vele pageant watchers plaatsten haar in de top 5.
En ze maakte deze verwachting helemaal waar door tijdens de international finale te eindigen in de top 12. Voor het eerst in de geschiedenis van Miss Supranational weet een Nederlandse Miss de tweede ronde te halen.
Voor 12 Months of Beauty was het naast deze top 12 plaatsering ook nog eens de derde keer op een rij dat hun deelneemster doordringt tot de semi-finale. Het lijkt erop dat het team van 12 Months of Beauty de juiste snaar heeft geraakt bij Miss Supranational.